Looking to do the Jeep Works JKL conversion yourself? We now offer our JKL Builder Kit with pricing starting at $2,300 plus shipping. Our base JKL Builder Kit includes extended frame rail inserts, inner and outer quarter panel extensions, floor pan extension, roll bar extensions, brake line extensions, fuel line extensions, wiring to extend body and frame harness's. 6 factory Jeep parts are used and we provide all the OEM part numbers to complete the JKL Builder Kit. The cost for these when you buy them from your local Jeep dealership is under $300.00.
The base stretch is compatible with the stock plastic fenders and stock suspension. It also works with most aftermarket fenders, body armor and suspension systems.


Left Quarter Panel Outer Extension
Right Quarter Panel Outer Extension
Frame Rail extensions
Left and Right Quarter Panel Outer Lower Extension
Left and Right Quarter Panel Inner Extension
Left and Right Inner Quarter Filler
Factory Roll Bar Extension and Sleeves
Left and Right Inner Rocker Extension
Left and Right Inner Quarter Reinforcement Extension
Parking Brake Cable Hole Filler
Left Floor Panel Extension
Center Floor Panel Extension
Right Floor Panel Extension
Fuel line extensions
Brake line extensions
Frame wiring harness extension
Left side body harness extension
Right side body harness extension
Skid Plate Extension
This is not a do it yourself modification. The standard JKL conversion takes about 100 to 125 hours to do the frame and body modification including teardown and reassembly. It take a combination of fabrication and autobody skills/knowledge. The installer needs to have knowledge of modern body/frame dimensioning and welding. An off road fab shop can do most of the work but you would also need someone with up to date autobody skills.
Below are option that are available but not necessary to complete standard 10″ JKL stretch.
Rock Krawlers X-Factor 3″ Stretch Long Arm Suspension System
$3,350
JeepWorks Exclusive Rock Krawler 3″ Stretch X-Factor Mid arm Suspension System
$2,550
Rear Roll Cage Upgrade
$650
Includes pre-bent and notched roll bar tubes
Rear Seat Relocation Bracket
$450
Moves seat forward 8″
Modified Master Top
$2400
Works with standard and upgraded cage
Modified Factory Hard Top
Call for Details
Works with standard and upgraded cage
JKL Poison Spyder Brawler Rockers
$900 (steel)
Extended versions to fit the Jeep Works JKL Stretch
Custom JKL Aluminum Rear Corners with Tube Style Fender
$1,800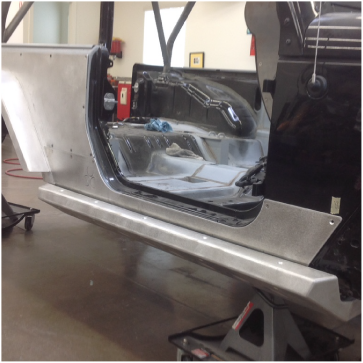 JKL Nemesis Billy Rockers
Aluminum $1,100
Extended versions to fit the Jeep Works JKL Stretch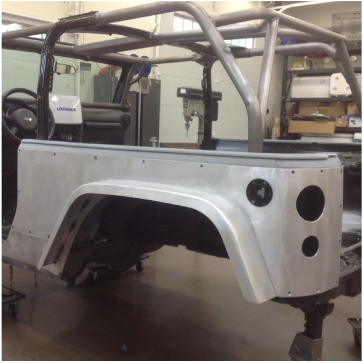 Custom JKL Aluminum Rear Corners with Nemesis Fender
$2,100
Extended versions to fit the Jeep Works JKL Stretch
Modified Factory Rubicon Rock Rails
$400
Modify stock rock rails to fit the Jeep Works JKL Stretch